GT Power Ungulan di Desktop Anda
GT-001 dinobatkan sebagai amp dan efek terbaik pada flagship GT-100 Versi 2.0 dengan desktop prosesor yang stylish untuk home studio atau mobile rig anda. Ukurannya yang kecil tidak akan memakan banyak tempat, dan interface yang intuisif memudahkan anda untuk men-dial up nada-nada kelas dunia untuk rekaman atapun latihan anda. Selain input gitar terdapat pula input XLR mic yang dapat digunakan untuk menangkap vokal ataupun alat musik instrumental, serta built-in USB audio/Midi interface memberikan koneksi langsung untuk membuat musik dengan menggunakan DAW favorit anda. Seperti GT-100, GT-001 menawarkan peluang penciptaan suara yang powerful dengan dual amp dan rantai efek serta routing option yang fleksibel. Dan yang paling utama, fungsi Guitar-to-MIDI yang baru dikembangkan memungkinkan anda untuk bersenang-senang dengan Guitar Friend Jam serta program-program komputer dari input gitar normal – anda tidak membutuhkan pickup khusus untuk menggunakannya! Tersedia untuk diunduh secara gratis, softwere dari BOSS TONE STUDIO menyediakan interface grafik yang menarik untuk mengambil nada dari komputer anda, serta akses menuju BOSS TONE CENTRAL untuk studio-ready patch gratis dan yang lainnya.
Premium amps and effects in a stylish desktop unit includes BOSS' latest COSM amp models, powerful MDP effects, and more
Flexible routing of amps and effects through two effect chains
Advanced multi-channel USB audio/MIDI interface for flexible recording and efficient re-amping
Kompatibel dengan sound patch GT-100 Versi 2.0
Tombol-tombol panel untuk menyesuaikan suara dan tombol khusus untuk memanggil nada favorit anda
BOSS TONE STUDIO editor/librarian untuk Mac/Windows dan custom patch tersedia di bosstonecentral.com
XLR mic input dengan phantom power, dengan efek patch yang didesain khusus untuk vokal dan gitar akustik
1/8-inch input untuk menghubungkan perangkat stereo seperti smart phone dan music player
Pengkonversi monophonic guitar-to-MIDI dari 1/4-inch input gitar normal
Jack untuk menghubungkan expression pedal dan atau tersedia hingga dua footswitches untuk efek kontrol yang nyata dan perubah patch
didukung oleh USB bus atau AC adapter yang telah disertakan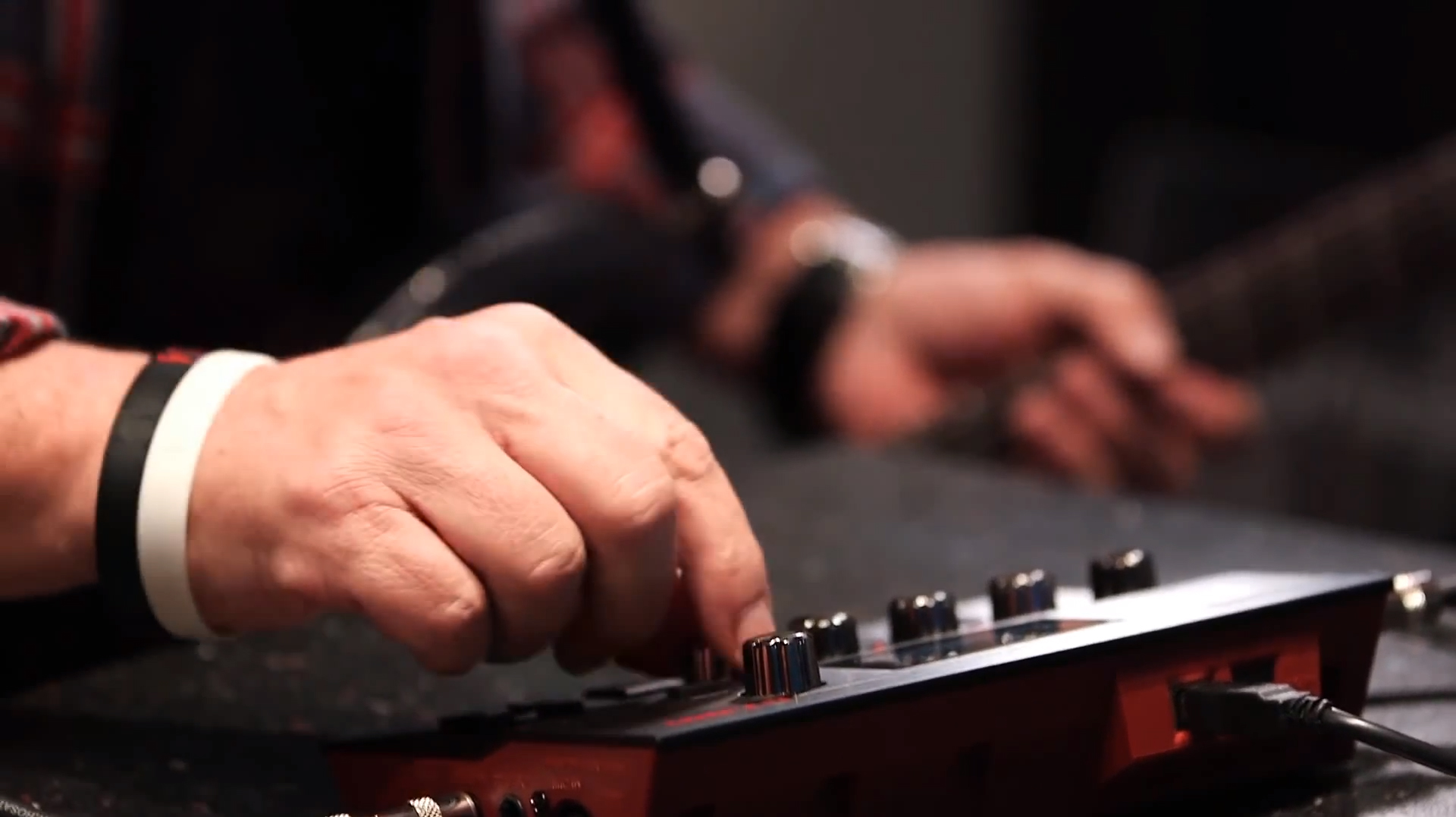 GT-001Guitar Effects Processor
Suara Tingkat Pro untuk Rekaman dan Jamming
Under the hood of the GT-001's stylish, streamlined body is a full-featured BOSS multi-effects processor with premium tone. Its COSM amps and effects are equivalent to the GT-100 with Version 2.0 software—BOSS' top-of-the-line processor for stage performers—and patch data can be shared between the two units. Dual effects chains allow you to create sophisticated tones with two amps and series/parallel effects routings, providing pro-level performance for all your music productions. Advanced parameters include a channel divide function that lets you switch effects chains manually or according to frequency or playing dynamics, and adjustable left/right mixing for flexible audio capture in your DAW.
Alat yang ampuh untuk Produksi Musik DAW
Melalui satu kabel USB, fungsi GT-001 berfungsi sebagai antarmuka audio berkualitas tinggi untuk komputer Mac atau Windows Anda. Sangat mudah untuk menangkap nada amp dan efek hebat langsung ke DAW Anda, dan empat saluran audio memberikan banyak fleksibilitas untuk merekam, mengganti ampere, dan mencampur. Misalnya, Anda dapat mendengarkan ampli dan efek GT-001 saat menangkap sinyal yang belum diproses di DAW Anda, sekaligus merekam nada yang diproses dan kering di trek yang terpisah, dan dengarkan campuran Anda saat mengganti nada dan mengatur nada gitar melalui GT- 001. Selain itu, kemampuan untuk menyalakan GT-001 dengan adaptor AC yang disertakan atau bus USB komputer menawarkan kenyamanan besar untuk pengaturan rumah, sesi studio, dan rekaman mobile dengan PC laptop
XLR Mic Input and Patch Dirancang untuk Vokal dan GItar Akustik
GT-001 bukan hanya prosesor gitar - Anda juga bisa menghubungkan mikrofon untuk menangkap pertunjukan instrumen vokal dan akustik ke dalam DAW Anda. Input mic XLR dilengkapi dengan phantom power, memungkinkan Anda menggunakan mic kondensor untuk kualitas rekaman terbaik. Patch yang dirancang khusus untuk vokal dan gitar akustik disertakan, memberikan suara yang bagus untuk pemantauan dan pelacakan. GT-001 juga memiliki input aux stereo, cocok untuk menghubungkan smart phone atau drum machine untuk jamming saat Anda tidak terhubung ke komputer Anda.
Enjoy Computer-Based MIDI Instruments From Your Normal
Guitar
GT-001 mencakup fungsi mono-gitar-ke-MIDI monofonik yang memungkinkan Anda bermain synth lembut dan instrumen MIDI lainnya di komputer Anda dari gitar Anda, tanpa pickup khusus yang diperlukan. Didukung oleh teknologi BOSS yang baru dikembangkan, fungsi yang keren dan nyaman ini sangat menyenangkan saat bekerja dengan perangkat lunak Guitar Friend Jam Roland yang gratis, dan juga memungkinkan Anda bereksperimen dengan menggunakan gitar Anda untuk membuat rangkaian MIDI dalam perangkat lunak produksi musik.
Edit dan Atur Suara dengan BOSS TONE STUDIO
Tersedia unduhan gratis untuk Mac atau Windows, BOSS TONE STUDIO memberi Anda antarmuka intuitif untuk membuat dan mengedit patch efek GT-001 dari komputer Anda melalui USB. Perangkat lunak ini juga memudahkan pengorganisasian dan pengarsipan tambalan, dan sesuai kebutuhan Anda untuk berbagai lagu dan gaya yang berbeda. Jika komputer Anda memiliki akses Internet, BOSS TONE STUDIO menyediakan koneksi terpadu ke situs BOSS TONE CENTRAL, di mana Anda dapat melihat pratinjau dan mendownload patch gratis yang dibuat oleh para gitaris profesional papan atas langsung ke GT-001. Patch premium ini juga bekerja dengan GT-100 Version 2.0, dan dapat dengan mudah disesuaikan dengan alat pengeditan yang ada di BOSS TONE STUDIO.
BOSS TONE CENTRAL: Rumah Web Anda untuk Patch Gratis, Instruksional Video, Tip Artis, dan Lainnya
BOSS TONE CENTRAL adalah tujuan akhir bagi semua pemain yang menggunakan produk BOSS. Berkembang untuk memasukkan pilihan peralatan BOSS yang berkembang, situs yang baru diluncurkan ini memberi Anda akses ke banyak konten premium, termasuk video demo dan tambalan gratis yang dibuat oleh gitaris terkenal, pro tur, dan session player. Sering tinjau kembali untuk patch baru, petunjuk video, wawancara artis, dan banyak lagi. Jika Anda menyukai efek BOSS, BOSS TONE CENTRAL adalah tempat yang tepat!